Honeybook is software that helps small businesses manage their day-to-day operations. For example, it helps them create invoices, send emails, and manage their contacts. It also allows them to manage their finances and track their progress over time.
If you're wondering how to level up your business, getting a business management tool is a significant first step, and there's never been a better time! Why choose HoneyBook? I'm a HoneyBook Educator. I can tell you how HoneyBook helped my business and let you see how it works.
HoneyBook has been great for my business. It allows me to:
● Centralize my client communications
● Get easy electronic signatures
● Collect online payments
● Set automated payment reminders
● Organize everything in one place
Centralize Client Communications
Small business owners tell me that their new inquiries come from different places, and they find themselves replying to emails, DMS, and texts, asking the same questions and answering them repeatedly.
This costs a lot of time, so you want to ensure you're getting the important information upfront and managing those conversations in one place — no matter where they're coming from.
HoneyBook allows you to do that with the Contact Form, which integrates with your website, a Direct Link, and their Chrome extension.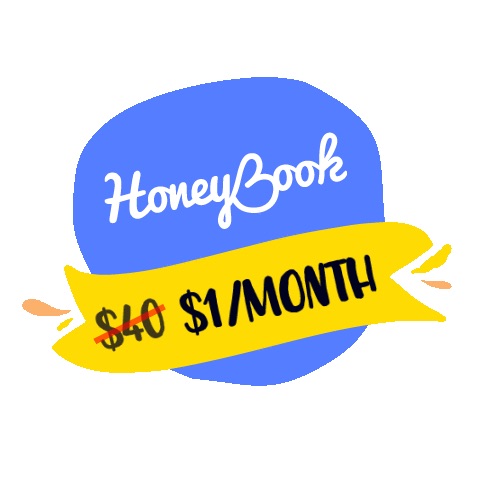 How to Organize New Inquires in HoneyBook
New inquiries will be added to HoneyBook as a project. You can see all the projects listed in the left-hand column. Each project is essentially a portal that holds everything you and your client need for their project.
You can see from this screenshot that you'll be able to see all of your projects in the pipeline, which is like your command center, giving you a birds-eye view of where each project stands in your process. You can customize the pipeline by adding your stages. That way, you can easily see your projects progress through each stage of your process.
---
Switching to HoneyBook seriously helped me grow my business. I'm able to do fewer administrative tasks and serve my clients. I have more info on how my business performed to make better decisions. It helped me start servicing more of my ideal clients.
HoneyBook has everything in one place, and its customer service is incredible! They helped me get up and running, making everything much easier.
Want to take a look inside an example of one of HoneyBook's pricing and service guide templates?
There are 65 templates to choose from. You can also build your own. The templates included are:
Brochures
Contracts
Design/Mood Board
Invoices
Proposals
Questionnaires


You can automate emails to frequently asked questions, asks for testimonials, or whatever you want to automate to save time.

HoneyBook Has an Excellent App
The platform is powerful, and I can do everything from the mobile app to improve things. I use the app to get notifications, send follow-ups and files, check off tasks and view my calendar, all while I'm on the go. How's that for efficiency?
I am a partner of Honeybook. This post contains affiliate links, sometimes banners too which means that if you click on the link and purchase the product, I will receive an affiliate commission at no extra cost. I would not recommend something which I do not think is an excellent tool to help you grow your business.