Need any ideas for gifts for entrepreneurs? Check out my gift guide, which includes headphones, things for the office, electronics, and more. This list of gifts for entrepreneurs contains various items that might be interesting to the entrepreneur in your life.
NOISE-CANCELING HEADPHONES
Cost $50 – $500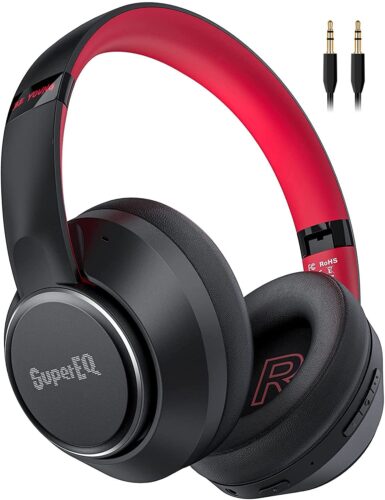 I wear my noise-canceling headphones all the time. Even to bed. Is that TMI? They are most helpful while working. The best headphones have a unique design that includes a microphone and control buttons. They also feature wireless Bluetooth or wired connections, with no need to plug in. With these types of noise-canceling headphones, you can enjoy peace of mind on your flight as you block out all background noises from the plane's engine, allowing you to focus on your favorite movie without any distractions.
These headphones make a great present because it has many features, including noise-canceling capabilities and Bluetooth compatibility with phones of any make/model, making them convenient for anyone on your list regardless of their needs or lifestyle choices.
I prefer the brand SuperEQ. The full name is Hybrid Active Noise Cancelling Headphones-SuperEQ S1 Bluetooth. Right now, they are on sale for $62. These headphones aren't perfect. I sometimes have trouble with Bluetooth. However, for the price, these headphones are good. They block out noise.
AUDIOBOOKS MEMBERSHIP
Cost: $15 to $120
I've had my Audible membership for about six years. Audible offers audiobooks. My favorite thing about Audible is that they now offer Audible Plus. Plus are books you can listen to without using your credits. The best book I listened to this year was from Audible Plus. Just about every book ever made is now on Audible. They also have exclusive books. Those audiobooks are called Audible Originals.
UDEMY
Price: $14.99 to $50
Udemy has classes on everything. Want to learn marketing, go here. One of their best SEO classes is called SEO 2022: Complete SEO Training + SEO for WordPress Websites. You don't need to be on WordPress for that class. Implementing that class will teach you how to rank in Google on any platform. Check out all of their business classes. Udemy offers a 30-back money guarantee, but I've never had to use it. Read the reviews and descriptions before you buy, and you will probably enjoy it. Udemy isn't just for business. Go here to see what classes they offer on Herbalism, EFT, and acting.
SMARTWATCH
Price: $150 – $300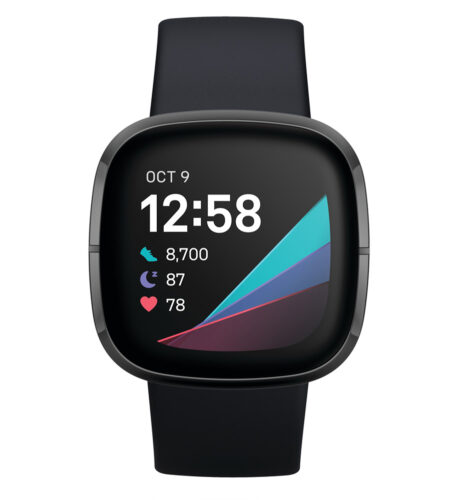 A smartwatch is a wearable device that can help with fitness, reply to messages, receive calls instantly, weather alerts, and so much more. SmartWatch is a device that has been designed to connect with cellphones, and it is smaller than the typical watch.
A smartwatch will help keep you connected on the go so you never miss a call, email, or message.
Smartwatches like the Apple Watch or Fitbit Sense (pictured) would be a fantastic gift for entrepreneurs. They are fun and useful gadgets that can help them stay on top of their daily tasks, such as keeping track of calls, texts, calendar appointments, and even workouts.
Some smartwatches measure heart rate, sleep, body temperature, and more. I currently have the Fitbit Luxe. It measures most things well, but the battery life is shorter than advertised. However, I believe that can be fixed in settings. I haven't gotten to it yet.
BLUETOOTH SPEAKER
Price: $40 to $250
Bluetooth speakers are for everything when you work from home.
A Bluetooth speaker is something that can be used for a variety of purposes, including at-home work. It allows you to listen to music and podcasts without worrying about wires or cords getting in the way as it works wirelessly with your device.
It's also simple to use; press the on/off button and pair up devices through Bluetooth. Check out the Bose SoundLink Revolve Wireless Portable Bluetooth Speaker. The app isn't the greatest, but the sound is good!
PAPER PLANNER
Price: $10 to $60
A good planner is a staple for every entrepreneur.
There are numerous planners on the market, but they vary in their features and price. For example, some planners have more pages than others, while some only include the essentials for a planner.
If you're unsure what to get your entrepreneur friend or family member who needs something new this year, there is no shortage of options. First, check out my blog post on the Best Planners for Entrepreneurs. I am currently using the Planner Pad and loving it!
HEATED BACK MASSAGER
Price: $40 – $150
The heated back massager is a product that has been designed for all who are tired of feeling stiff and sore. This massager provides different heat levels to help increase circulation, relax the muscles, and reduce tension in the back, neck, shoulders, and arms.
It is perfect for people on the go because it fits easily into any bag or suitcase. In addition, it includes an auto shut-off feature to ensure users are safe from potential burns when they are sleeping or away from home.
The heated back massager also includes an easy-to-use remote control to allow users to adjust the intensity of the heat. As a result, you can enjoy your massage experience easily in the car and office.
REUSABLE NOTEBOOK
Price: $15 to $25
The words will disappear, and they can jot down notes as often as they want. 
A reusable notebook is a valuable gift for anyone who needs to take notes, but it's particularly beneficial for an entrepreneur. It allows the recipient to decide how much work they want and where they want to put their time.
The words will disappear as soon as you're done writing them down, so there are no distractions from the content of your thoughts while jotting them down in a clean space without any trouble or effort on your part.
If you get a Rocketbook reusable notebook*, you can send your handwritten notes to GoogleDrive, Evernote, Slack, iCloud, email, and more. 
Shop at getrocketbook.com!
DESK CHAIR FOR ENTREPRENEURS
Price: $40 to $400
Given the amount of work, stress, and long hours that entrepreneurs put in at their desks, it's essential to have a good office chair. Some people are more comfortable with high-back chairs, while others prefer low-back chairs.
An entrepreneur should choose an appropriate desk chair based on personal preference and need for comfort or support.
The best office chair for any entrepreneur has lumbar support. It provides comfort and relief from stress, which can be pretty high when balancing work and home.
I love my office chair. I bought it about eight years ago from Staples. Unfortunately, I can't find the one I have online. This bonded leather chair* from Staples is similar to what I have. It's less than $200; if you use my affiliate link, you can get more.
MEAL KITS SUBSCRIPTION
Price: about $10 a meal
Services like HelloFresh simplify the cooking, so it's fast, decision-free, and pure pleasure! I'm not too fond of cooking, but I found HelloFresh easy to use, and the food was excellent.
Meal kits subscription services like HelloFresh are becoming increasingly popular. These services allow for the creation of meal plans that can be customized to fit any dietary needs, and they simplify the cooking process so it is fast, decision-free, and pure pleasure!
The service allows users to make healthy meals with fresh ingredients delivered right to their doorsteps. Furthermore, you'll never have to worry about grocery shopping or cooking again – all you need is a few minutes of your time to prepare a healthy meal with a little bit of prep.
Freshly is another meal kit subscription. It offers meticulously crafts healthy, whole ingredients into fresh, flavorful meals. Then they send them directly to their customers in environmentally friendly boxes. They also offer vegetarian meals.
The best thing about most of these descriptions is that they allow you to skip a week if you have too much food, trying to save money, or are out of town.
LAPTOP BED TRAY DESK
Price: $30 to $150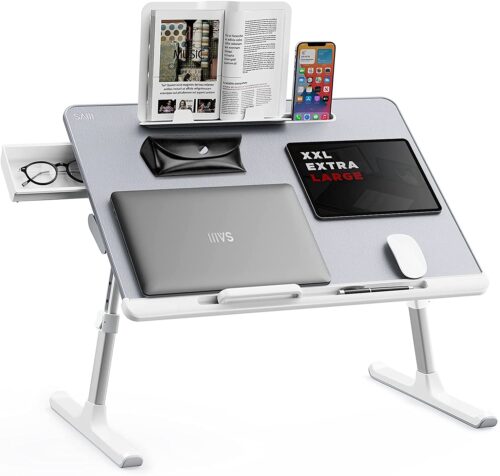 I ordered this laptop bed tray desk in May of 2020. I love it and use it almost daily. It has a book stand, a tablet groove for your iPad, and a moveable laptop stopper so your laptop won't fall off the desk. This desk is perfect for entrepreneurs because it has a lot of space. But, it's not just for your laptop. There's room for a notebook, your cellphone, or whatever you want nearby. It's also adjustable. This version has a small and big version. I ordered the bigger one with no regrets.
TILE MATE
Price: $20 – $35
I won a Tile Mate this year. You can put it on your keychain, and it will track an item. You can use it to find your wallet, pet, or anything. You have to pair it with a smartphone. It tracks through Bluetooth. It is best when looking for an item within 200 feet. When you misplace something, you can go into the app on your phone (which is user-friendly) and tap find whatever you lost. It then rings your tile that is attached to your keys, and if they are not in an area where they can ring, it shows you the tile's location, which is also very helpful.
I hope you have some ideas on what to give the entrepreneurs in your life. The best gifts for entrepreneurs are things they can use to help their business thrive. What else is suitable for business owners? A gift card. That's my favorite go-to gift.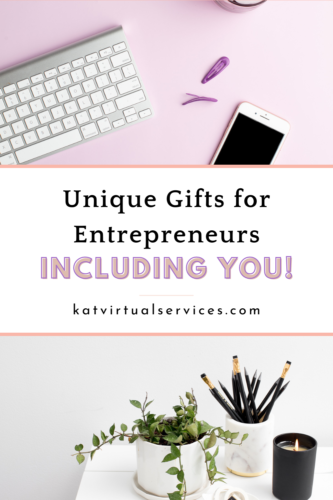 ---
This post may contain affiliate links, sometimes banners too which means that if you click on the link and purchase the product, I will receive an affiliate commission at no extra cost to you.