Are you an online business owner who doesn't have the time or the inclination to write your own blog Posts?
Look no further! I offer professional blog writing services to help get eyes on your website and blog. With my help, you can create engaging, informative, and relevant content for your target audience. I'll take care of the writing so you can focus on what you do best. Let me help you get your message out there and grow your business. and let's make your blog shine!
As a freelance writer, I'm passionate about crafting copy that resonates with your audience. I specialize in creating blog posts and online content that are both SEO-friendly and engaging. I place more emphasis on content than SEO because I believe that well-written pieces get more clicks from search engines.
I'm proud to have a certificate (pictured below) from the SEO course I completed in 2022. I've also taken other courses, but they don't provide certificates.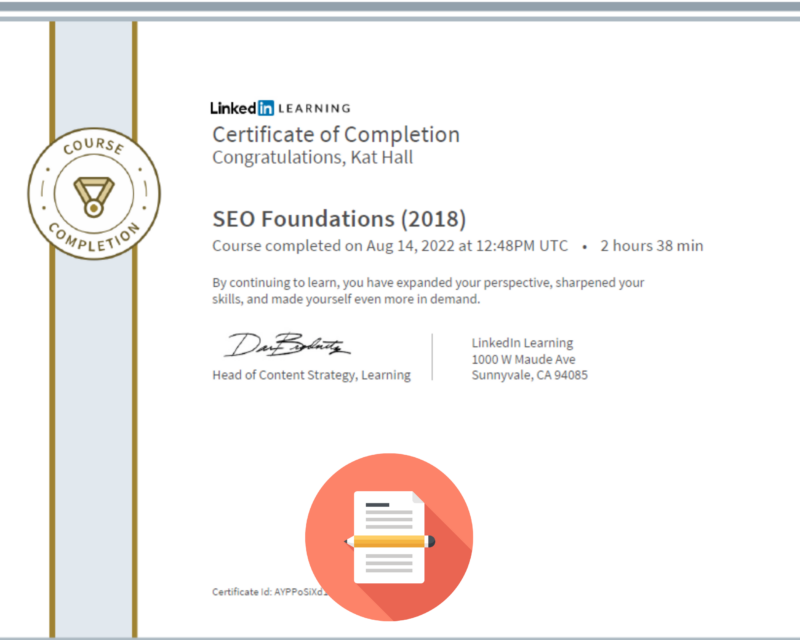 What You Will Get
💟One to four blogs a month. Your choice.
💟Plagarism check. I'll send you the proof.
💟The blog will be posted on your website with pictures if you desire.
Simply scroll up, click the "I'm Interested" button, and send me a brief message about your business goals.
Pricing
$70 per blog (no contract)
$55 per blog if you want multiple blogs (3-month contract)
Extras
Two revisions (extra $10 – everyone gets one revision for no extra cost)
Upload the blog to your site (FREE unless you want pictures, then $10 per post)
Extra info
I will write blogs up to 1,500 words.
I don't write about crypto, NFT, weight loss, cooking, or recipes. If unsure, you can contact me.
One of my top blogs isn't SEO-optimized, so I know SEO isn't everything, especially if you are on Pinterest.
Please contact me at least two weeks before you want a blog post.
About Me
Hi, I'm Kat. I've been writing blogs for businesses (including mine) since 2018. I didn't get serious about SEO until 2020. Contact me today, and let's get started on your blog.