Though Pinterest is the platform that generally brings out pictures of home décor, shopping sprees, wedding decorations, tasty recipes, and beautiful travel locations, there is quite a lot more to Pinterest than meets the eye. Particularly for business, ANY business. People are now utilizing Pinterest to drive targeted and long-term traffic to their sites and grow their mailing lists. If you are not leveraging the power of Pinterest for your business, the time has come for you to start now. Let's find out how.
Pins on Pinterest can last for years. While the content on social media platforms has a very short shelf life. Pins can be used to promote your brand and business, but they are also great for providing information about your products. You can pin images or videos to promote your products, and you can also pin blog posts and web pages. Pinterest can help drive traffic to your website and provide brand awareness.
Pinterest – A Brief Introduction for Business
Before we take a plunge, it is critical to comprehend what is setting Pinterest apart from other social networking channels. In the beginning, Pinterest is anything but a social media network. Instead, it's a visual search engine intended for discovery. People are not there to communicate or chat with others. Instead, they effectively search for thoughts or arrangements over an extensive scope of subjects.
You can take advantage of this by anticipating the thoughts and fixes your potential clients are searching for. Then, pull in them by making and distributing content on Pinterest that serves them the ideas and solutions they were looking for, either organically or through paid advertisement. Any questions you get from your clients more than once would make a great blog and content for Pinterest.
---
---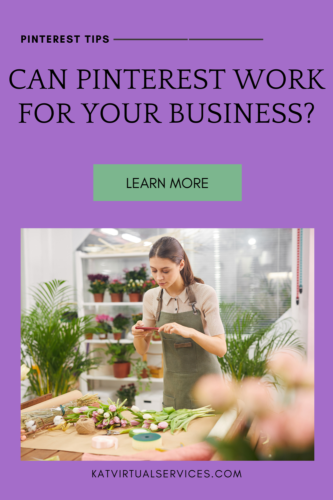 Pins can be used to promote your brand and business, but they are also great for providing information about your products.
---
---
How does Pinterest work?
The Pinterest algorithms have circulated saved or pinned content to a broad audience in their home feeds and search results. To promote your business, you need to make motivating, unique, desirable, and discoverable pins to get saved, shared, and clicked as frequently as could reasonably be expected. High-Quality images, accommodating content, and keywords are all vital ingredients to get success on Pinterest.
There is no one-size-fits-all strategy when it comes to Pinterest marketing. Instead, everything relies upon your business specialty, the development of your Pinterest account, and your general Pinterest action.
Is Pinterest going to work for your business?
To decide if Pinterest is suitable for your business, you must complete a little research.
Go directly to Pinterest, and then search for keywords and phrases relevant to your niche or business. If the search shows results with those keywords used in people's profiles, pin descriptions, board names, and board descriptions, that's a green signal for you to start marketing on Pinterest.
Get feedback from your customers on what they think about Pinterest if they use it or not, and if yes, how? If you are not getting a positive response, you may want to reconsider whether you want to be on the platform. Can you find new customers on Pinterest? Pinterest can help you reach new markets and customers.
The bottom line is simple, it's your business, nobody knows it better than you, and it's entirely up to you to use Pinterest for your online marketing or not. You don't have to be on Pinterest. Pinterest is one of the creative ways you can drive more people to your website and build brand awareness. Anyone can do well on Pinterest with excellent content. Yes, you need good images and pin descriptions, but it's really all about the content.
In other words, Pinterest marketing is a way to use Pinterest as a tool to help grow your business. It can involve using Pinterest to reach new audiences and then converting those viewers into customers by getting them to sign up for your newsletter, buy your online course, or purchase a service.
---
---