There is no one-size-fits-all answer to how a planner can help you be more productive as a business owner or entrepreneur. However, for many people, having a planner can be a helpful tool for staying organized and on track.
A planner can provide you with a way to keep track of your goals, deadlines, and appointments. This can be especially helpful if you have a lot of balls in the air and need to stay on top of multiple projects at once. Having everything written down in one place can help ensure that nothing falls through the cracks.

In addition, taking the time to sit down and review your plans each week or month can allow you to reflect on your progress and make any necessary adjustments to your course of action. This regular check-in can help keep you motivated and focused on what you need to do to achieve your goals.
Finding the perfect planner can be overwhelming, but don't worry! I've researched for you and found the best planners for every type of person. Whether you're looking for a simple and minimalist design or something more funky and fun, we've got you covered. Check out my list of the best planners for 2023 now!
What are some of the best planners for business owners and entrepreneurs in 2023?
MāksëLife planners are a must-have! Start by assessing your current standing and setting measurable goals. Choose from daily, weekly, and quarterly planners made with 120 GSM recycled paper. The quarterly planner is also undated and has amazing features like habit trackers, monthly goals, and reflection pages.
MāksëLife planners are more than just a way to keep track of your to-dos. They're a tool to help you achieve your goals and make lasting changes. Inside each planner, you'll find everything you need to get started. This planner has a full goal-planning system, making it great for business owners.
Price: $70+
I love all things Inkwell Press. They have so many different planners that I can't possibly list them all. This top-of-the-line planner can handle everything from daily to weekly planning. However, if you are looking for a weekly planner, I recommend the 2023 Weekly Monthly Planner 360. It has 199 total disc-punched pages and a vertical layout.

Inkwell Press always comes with thick 140 GSM paper. In addition, this planner comes with habit trackers, monthly automations, bill tracking, project plans, and 12 monthly mission boards. This planner is incredibly versatile and can be used for various purposes. So this planner is perfect if you're a busy entrepreneur trying to stay organized or need some structure in your day-to-day life!
Get organized and stay on top of your plans with the amazing Day Designer Planner! Ideal for business owners and entrepreneurs, this planner offers plenty of generous space to record your top 3 priorities, daily schedule, to-do list, meal plan, and any other important notes. Get ready to take control of your daily life with this fantastic planner!
For 2023, they offer daily and weekly planners and A5 inserts. All of the options have 100 GSM white paper. In addition, all of the planners come with a ruler. So if you don't like wire-o binding, try the inserts.
See the planner here:
The Best Planner has everything you need to organize and reach your goals – including their amazing 90-Day planner! Undated with a spiral binding, this planner is a must-have for any business owner. Check it out: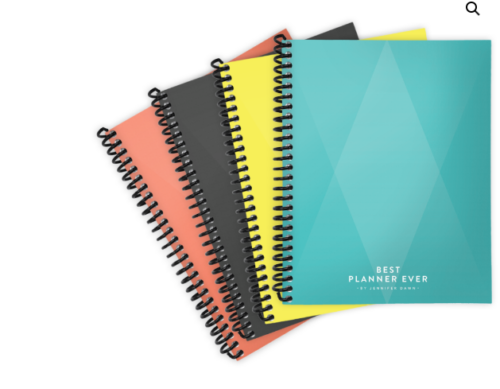 Reach your goals and have fun doing it. Their high-quality work-life balance planner helps you stay organized and easily reach your goals. Customize it with your dates and get to it!
Looking for a planner that fits your unique style? The Happy Planner is perfect for you! With customizable covers, undated and dated 12-month options, and ample space for writing, planning, and prioritizing projects, the Happy Planner is a great choice for anyone seeking a stylish and functional planner. The only downside is that the paper isn't thick, but overall, the Happy Planner is a great option for anyone looking for a unique and stylish planner!
Price: $18 – $35
The Laurel Denise Planner is unique, and I love it! The Horizontal Weekly Planner is the original and best for to-do list lovers. With daily and weekly to-do lists, and an open daily scheduling block, you can easily keep track of your schedule and what needs to get done. Many people have loved and raved about this planner.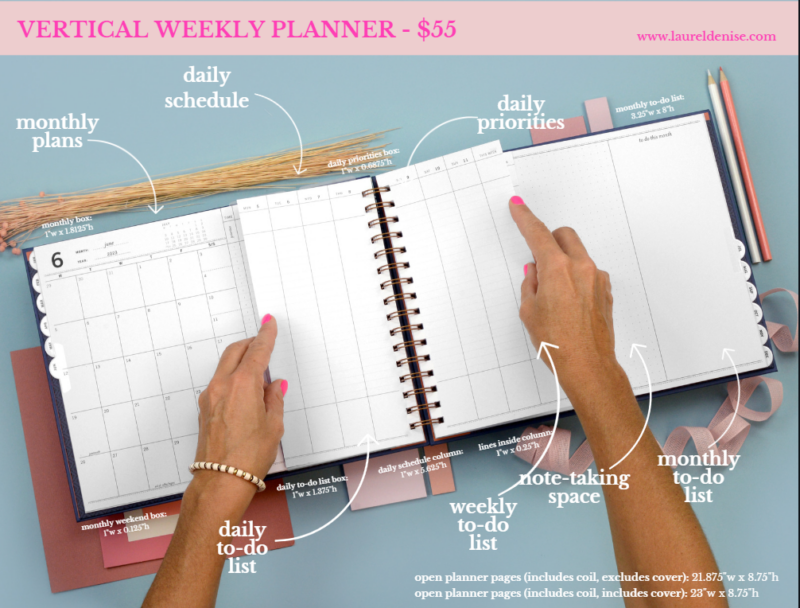 She sells planners that help business owners stay organized. The all-in-one weekly planner (linked above) includes a ruler, two pocket folders, and tabbed monthly pages. The monthly and weekly views can be seen simultaneously. There is a lot of room for notes. Also, the paper is great quality – 80 lb paper. And you get a clear bookmark with the planner.
This planner isn't your typical vertical shape. It's horizontal. It's rectangular and not huge but awkwardly shaped when used for vertical planners. When the planner is closed, it's 11.25″ wide x 8.75″ high. The planner is great for people who work from home, as it allows them to have note-taking space and a to-do list without squeezing it into a tiny space.
Cost: $55+
The Arcis A5 Journal + Planner is perfect for business owners and entrepreneurs who need an elegant and professional way to stay organized. The journal features weekly pages on the left-hand side and gridded pages on the right-hand side, which makes it easy to plan and take with you wherever you go. This journal and planner are made for quarterly planning (90 days).
The small hour-by-hour planner helps you map your schedule more comprehensively, while the included gridded space allows you to jot down ideas without worrying about running out of space later. In addition, the journal is 168 pages, and the paper is 100 GSM.
The downside for people in North America is that this planner is shipped from Australia and might take 30 days to get to you.
If you are like me and don't want to have a planner and a notebook, the Sprout planner by Heather may be for you. The philosophy behind this planner is intention and reflection and not only about being productive. These planners are simple and effective. It allows you to reflect on your day, make lists, and take notes. You can approach your days without pressure to achieve or track progress. She sells daily, weekly, and monthly planners.
Every month has monthly reflection pages. The reflection pages are perforated so that you can tear them out easily. The paper is 80 LB (120 GSM) which is great quality. Each planner comes with a clear bookmark. The weekly planner comes with 62 note pages. There aren't many note pages in the daily planner.
The downside is that the weekend splits a page in the daily planner. There is still a lot of room, but the weekdays have more space. In the weekly planner, all days have equal space.
I have the weekly 2023 planner, and I love it. Take a look inside:
Price: $40 -$45 (bargain!)
Which Planner Should You Choose for Your Business?
When choosing the best planner for business owners and entrepreneurs, there are a few things to consider. First, think about what type of entrepreneur you are. Are you artsy or minimalistic? Are you an organized person who prefers structure and planning, or do you prefer the flexibility of a more open approach? Do you need something compact, portable, or larger with sections for different categories? Are you looking for something with monthly or weekly spreads? This will help you narrow down the options.
Next, consider how much you want to spend on a planner. Some high-end planners can be quite pricey, but there are also more affordable options. Choose a planner with the features you need to help you manage your year and make it the best it can be.

Disclosure: This post may contain affiliate links, sometimes banners too, which means that if you click on the link and purchase the product, I will receive an affiliate commission at no extra cost. I would not recommend something which I do not think is an excellent tool to help you grow your business.