Have you ever struggled to find the time, money, and know-how to grow your business? Try ClickUp. I've been using ClickUp for about two years.
It really changed my life. It has improved my efficiency and effectiveness of myself. It helps me organize my blog posts, social media posts, and SOPs. ClickUp can be your central location to keep all your tasks, documents, and projects.
Good project management should provide a way to apply filters to your lists so you only see what you need to see when you need to. The program should be able to grow alongside your team as you continue to grow and advance your business goals. Finally, the program should sound too good to be true but be worth the investment.
What is ClickUp?
ClickUp is a project management tool that aims to simplify your business life. It offers a hierarchy of views, starting with teams, spaces, projects, lists, tasks, and subtasks. This allows you to break down complex projects into manageable steps. Additionally, ClickUp offers a variety of features to help you stay organized and on track, such as task dependencies and notifications.
How can ClickUp help your business?
ClickUp allows you to conveniently import all your tasks and due dates from many other project management apps (like Asana, Trello, and Basecamp), making the transition to ClickUp seamless.
They have a time-tracking tool that tracks how long you work on a project and estimates how long it will take to complete. The time-tracking tool is excellent for keeping your team on track and productive and allows clients to see when they can expect to hear back from you or your team.
ClickUp also offers a calendar view that helps you see when tasks are due by the day, week, or month.
Tip: If you don't like ClickUp's time-tracking tool, try Toggl Track.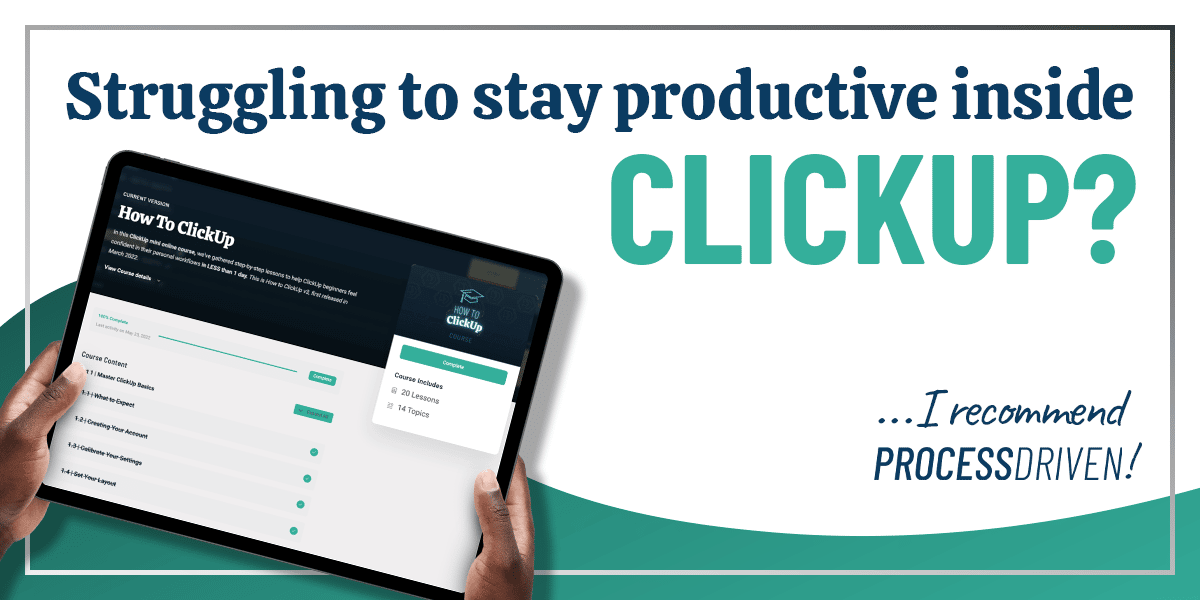 You can use ClickUp to create an order tracking system by creating a workflow for each of your services and sharing it with your team or client. You can also add a chat feature to your project board to communicate with your client. You need the paid version to use the chat feature with a client.
Tip: As your business grows, you'll likely find yourself working with more and more clients. While it's great to have this growth, keeping track of all your client work can also be challenging. Instead of making a space for each client, try using one space for all your clients. This will give you a better overview of all your work and make it easier to change things. You can still use tags or custom fields to keep track of individual clients, but this will help you stay organized overall.
What Are Automations?
If you've heard of any project management tool, you've probably heard of automations. Automations are little invisible robots you create to-do mindless (but time-consuming) busy work for you. They are a feature to save time on tasks by creating templates for recurring tasks and assigning automations to them. This way, every new task will automatically populate with the template. So, for example, you can use ClickUp templates for new podcast episodes, Youtube videos, emails, blog posts, and Instagram stories—you name it!
What ClickUp Business Plan is for You?
I started using ClickUp with their free plan, which was great, so I decided to go for their unlimited plan. After a few months, I took advantage of a deal and upgraded to the business plan. I've been on the business plan for over a year, and it's been great. I'm considering returning to the unlimited plan but I am excited to see what ClickUp 3.0 (coming sometime in 2023) offers.
If you are brand new, I recommend starting with the free plan unless you need tech security for your team. The free plan is great. You get 100GB of space, unlimited tasks, and members. This plan is ideal for personal use and businesses with small teams.
ClickUp's Unlimited Plan offers many exciting features, such as unlimited storage, list, board, calendar views, integrations, and dashboards. It also allows guests, changes to permissions, and access to goals, portfolios, and custom fields – providing a significant upgrade from the Free Plan.
ClickUp's Business Plan is the perfect choice for businesses and larger corporations. This plan offers ClickUp without limitations, including calculations, pie charts, sprint widgets, and timesheets.
The Business Plus is great for teams. This plan allows more subtasks and more integrations. This feature is especially useful for agency owners managing multiple teams and a large client list.
Finally, there is the Enterprise Plan. This plan is only a must if your business needs to be HIPPA compliant. With this plan, the ClickUp team will personally help you with onboarding and setting up everything.
I recommend free, unlimited, and the business plan for most businesses. The only reason to get the business plan is if you want more widgets and charts. The best thing is you can start with the free plan.
My ClickUp Tips for Your Business
Here are a few things I didn't mention about how I use ClickUp. I love the ClickUp dashboard for organizing my projects. I have one dashboard for tasks due today and another for brainstorming. Having only tasks that are due today helps me stay focused on what needs to be done. The brainstorming dashboard is divided into four sections – brainstorming, resources, and other relevant information.
The Cons of ClickUp
With increasing numbers of people on your team, ClickUp may not be as intuitive. Moreover, setting up more complex SOPs could be tricky without help.
A chat feature for the paid plans would be excellent. You need to be on the Business Plus plan to chat with clients. Talking with my clients or teammates without upgrading would be a dream!
What I love about ClickUp Docs is that it's like having Google Docs! A ClickUp Doc is a cloud-based document that can be placed within the ClickUp hierarchy like other lists. It allows users to add media and text and format it with various styling options, such as headings, columns, and banners. The only downside is that it only allows search by title, so I create more documents than I need to because I can't search them easily. Also, you have limited tags if you're not on the Business Plan.
Is Learning ClickUp Difficult?
Understanding the different components of ClickUp will help you get the most out of the software. For example, the "team" component is essential for businesses using ClickUp to improve collaboration and grow their team. You can use ClickUp to its full potential by understanding how this component works. I recommend How to ClickUp, that's already helped 1,700+ students be more productive inside of ClickUp, especially if you have a team and are brand new to ClickUp.
ClickUp is the perfect tool for small businesses looking to automate tasks and track time. In addition, their powerful marketing automation tools will help you track leads and conversions more effectively. So if you're looking for a tool to help your small business thrive, look no further than ClickUp! If you want to learn ClickUp in ONE day before the price doubles, enroll now.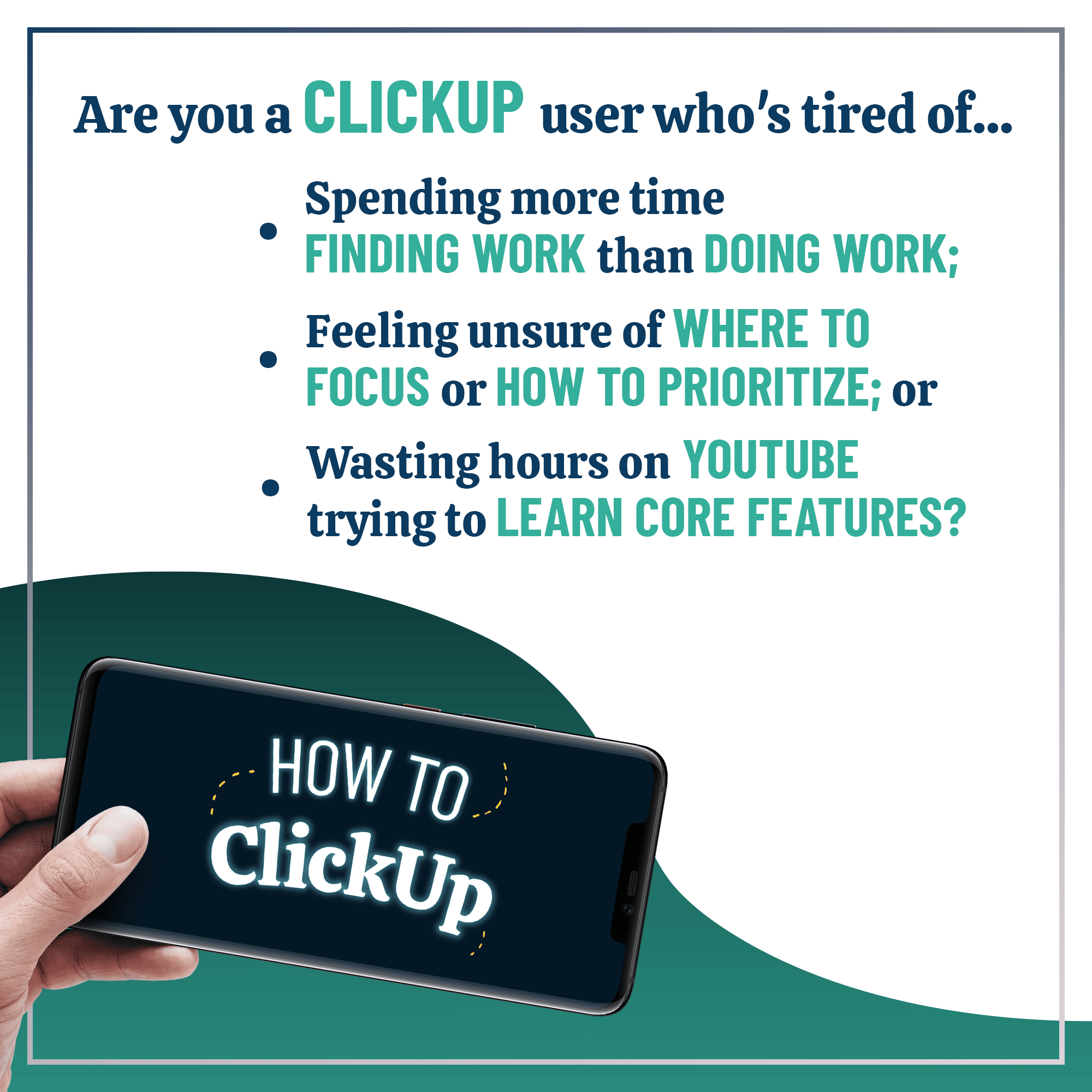 Get more done in less time with How to ClickUp by ProcessDriven. My favorite part of the program is how to customize your ClickUp. Learn the core features and daily habits, and get personalized support from ClickUp experts. Get four popular ClickUp Templates and three decision trees, all for a low price. Don't miss out! Get it NOW before the price doubles and ClickUp 3.0 comes out in 2023.
Disclosure: This page may contain affiliate links, which means if you click one of my affiliate links and decide to make a purchase, I receive a tiny commission from the seller at no additional cost to you.
Click below to enroll today!